WWii WW2 ORIGINAL GERMAN UNIFORMS FOR SALE
EXTREMELY RARE UNTERSTURMFUHRER OF ALLGEMEINE SS

TUNIC, PANTS, BOOTS, OFFICERS BELT, CROSS STRAP AND HAT ARE IN NEAR MINT CONDITION. DATED 1939. CUFF TITLE HAS ROMAN NUMERAL III (BERLIN). UNIFORM HAS ORIGINAL 1936 CHAINED DAGGER WITH EXCELLENT NO MAKER MARKED BLADE AND ALL CHAINS LINKS INTACT AND CORRECTLY MARKED. THE SS  OFFICER HAT IS EXCELLENT WITH ALL STAMPS AND LABELS, ONLY MISSING PART OF THE CELLULOID TO HAT CROWN. SS OFFICERS SWORD BY WKC  UNIFORM HAS FIRST CLASS IRON CROSS, SPORTS BADGE AND PARTY BUTTON TO NON ORIGINAL SHIRT AND TIE. ALLGEMEINE SS UNIFORMS ARE RARELY FOUND THIS COMPLETE DUE TO THEIR DISAPERENCE AFTER @ 1942.
NICE OVERALL!  KREIGSMARINE TAN AFRICA KORPS UNIFORM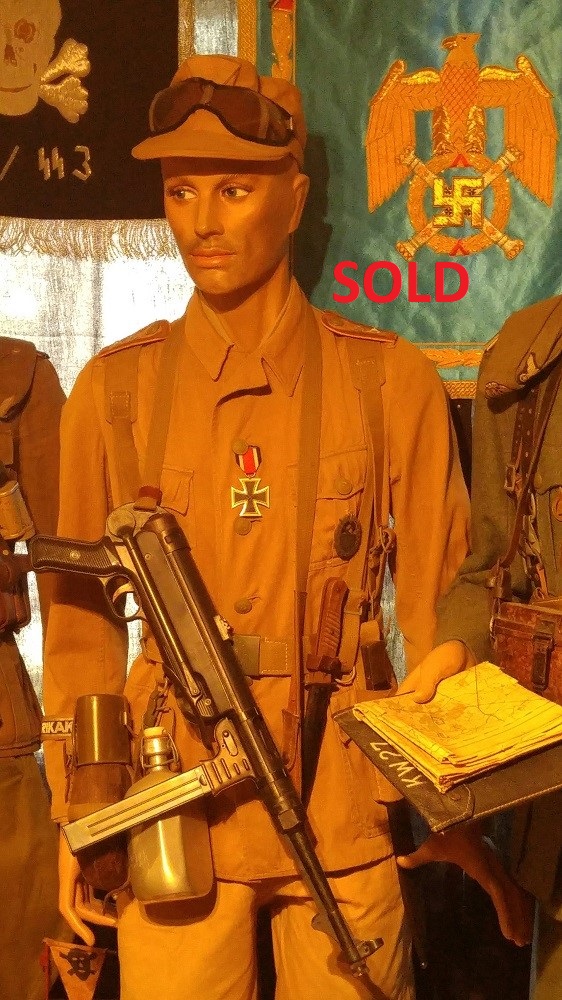 COMPLETE WITH TUNIC, PANTS AND BOOTS. ALSO HAS TROPICAL "A" UTILITY FRAME WITH WEB BELT TROPICAL FROG AND BAYONET. IN ADDITION THE UNIFORM HAS FIGHTING KNIFE WATER BOTTLE AND LEG GAITERS. HARD TO FIND A.K. BASEBALL STYLE HAT WITH INSIGNIA AND TANK KORP METAL FRAMED GOGGLES. UNIFORM IS COMPLETED WITH REPLICA MP-40 WITH MAGAZINE AND ORIGINAL 2ND CLASS IRON CROSS AND COASTAL BATTERY BADGE. OLDER MANNEQUIN WITH GOOD FEATURES SOLD
AFRIKA KORPS DARK GREEN UNIFORM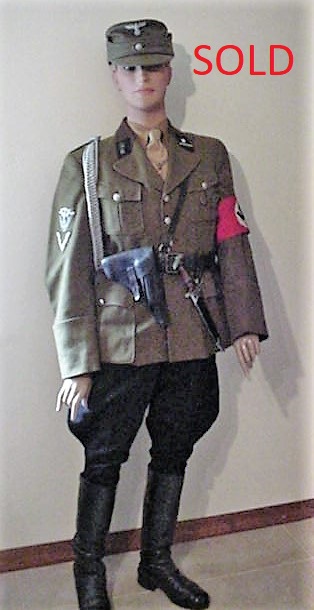 AFRIKA KORPS UNIFORM MADE OF THE DARKER GREEN CANVAS WITH WEB BELT AND GREEN CANVAS HELMET IN EXCELLENT CONDITION. HAS THE VERY RARE LUFTWAFFE LACE AND STRAP CANVAS AND LEATHER BOOTS. BROWN LEATHER AMMO POUCHES AND 6X30 BINOCULARS. TWO ORIGINAL AND COMPLETE HAND GRENADES. OLD WOOD AND CLAY HEAD MANNEQUIN. A VERY COMPLETE A.K. SOLDIER. HAS THE INSIGNIA OF THE ELITE SONDERVERBAND #288 KORP. IF YOUR LOOKING FOR NICE COMPLETE A.K. IN EXCELLENT CONDITION WITH MANNEQUIN…. SOLD

COMPLETE WITH EXCELLENT ORIGINAL TUNIC, PANTS, SHIRT AND BOOTS. IN ADDITION LEATHER BACKPACK S.A. BELT AND MEDICAL CASE WITH CONTENTS (S.A. MARKED). COFFEE CAN STYLE HAT WITH NICE EARLY S.A. HAT PIN IN VERY NICE CONDITION. HAS VERY NICE S.A. DAGGER BY PUMA WITH CORRECT HANGER.SIDE SCHIFF HAT AS WORN ON SHOULDER. S.A. SPORTS PIN. OVERALL VERY COMPLETE S.A. UNIFORM WITH OLD WOOD MANNEQUIN AND HEAVY CLAY HEAD. SOLD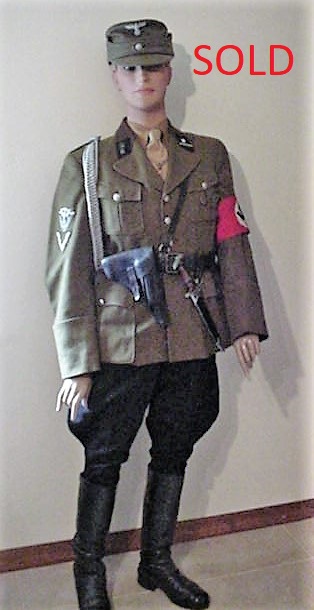 N.S.K.K. UNIFORM WITH ORIGINAL PANTS TUNIC AND BOOTS. TUNIC HAS METAL SHIELD FOR TRAFFIC OFFICER. NICE ARM BAND AND CROSS STRAP WITH CORRECT HANGER FOR N.S.K.K. DAGGER BY OTTO STOVER IN EXCELLENT CONDITION ALONG NICE ORIGINAL P-38 HOLSTER. N.S.K.K. KEPI WITH CORRECT INSIGNIA. HAS TIE TIE N.S.K.K. PIN AND NON ORIGINAL SHIRT. THE MANNEQUIN IS OLD EXCELLENT WOOD TYPE WITH HEAVY CLAY HEAD WITH GLASS EYES SOLD
PANZER UNIFORM OF OBERSCHARFUHRER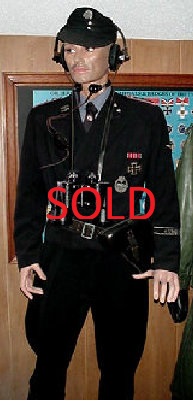 WITH INSIGNIA OF 1ST PANZER DIVISION "LAH" COMPLETE UNIFORM OF PRIVATELY MADE TUNIC. NO SIZE MARKINGS IN INTERIORHAS "LAH" SHOULDER BOARDS AND CUFF TITLE ADOLF HITLER. PANTS HAVE LATER SLIT POCKETS IN FRONT, FLAPS IN BACK. SHIRT AND TIE NOT ORIGINAL, BUT CORRECT STYLE. HAS VERY NICE PANZER TWO BUTTON FIELD HAT WITH INSIGNIA AND BLACK SQUARE BUCKLE BELT WITH EXCELLENT P-38 HOLSTER. THE UNIFORM HAS THE CORRECT CUSHIONED HEADPHONES AND THROAT MIKE FOR ARMORED VEHICLES. SOLDIER IS EQUIPED WITH EXCELLENT 7X50 BINOCULARS BY A.C.T. WITH LARGE EAGLE AND SWASTIKA MARKINGS. ALSO ORIGINAL 25 ENGAGEMENT TANK BADGE BY AWS TWO PIECE CONSTRUCTION EXCELLENT AND FIRST CLASSRO SOLDN CROSS, RIBBON BAR.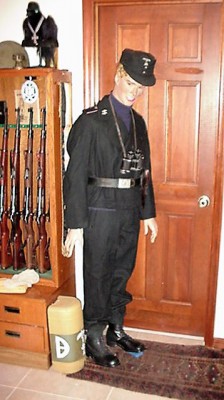 EXCELLENT CONDITION WITH TUNIC, PANTS, LOW CUT UNISSUED BOOTS(WITH TAG) AND TWO BUTTON CAP WITH EAGLE AND SKULL TRIANGLE INSIGNIA. NICE BELT WITH SS BUCKLE AND EXCELLENT P-38 HOLSTER. GOOD PAIR OF STANDARD 6X30 BINOCULARS. NOT ORIGINAL BLUE PULLOVER. FROM OORLOG MUSEUM IN BELGIUM.
1940 MODEL SS UNIFORM OF REICHSFUHRER SS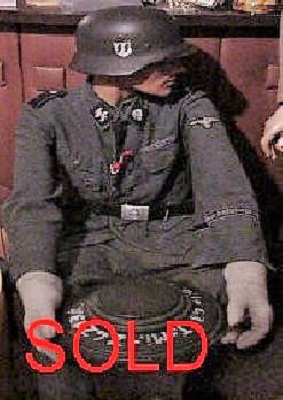 with cufftitle, has matching bloused pants, ss belt and buckle, and combat boots. Nice example with insignia of ss Mann. Blue piped shoulder eppaulettes,close combat award with second class iron cross and eastern front ribbon. Helmet is excellent dd ss 1940 with early style runes in 90% and near mint party shield. near perfect liner and original helmet chinstrap. mannequin is in sitting position with good facial features. Very nice overall!  SOLD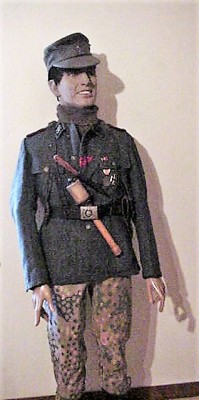 Made from several types of green wool material. The tunic has slightly different colored material used in its construction, notibly in pocket linings. Upper pockets are flapped as normal but lower are slash cut with no flaps. Shoulder eppaulettes are removeable type with red piping, SS shoulder sleeve eagle and SS collar insignia. Rank of SS Mann. Pants are SS pattern camo with lower leg tie strings in very good condition with some fading. Combat boots,very good. Nice SS belt with EM Buckle show some wear. Tunic has black utility straps with trench knife and two belts of 7.92 ammo with late war original stick grenade, brown P-38 holster,all excellent M-43 cap dated l944 and maker stamp(mint). Old style wood mannequin with hand painted clay ? head, simulated hair.
EARLY FLANDERN SS STYLE UNIFORM FROM BELGIUM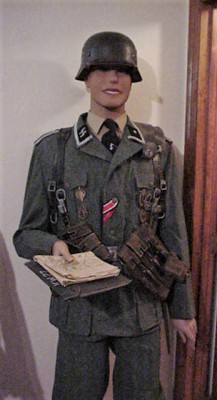 Very complete early SS style uninform from Belgium "Frei legion Flandern" Division. The tunic, pants,hat and boots are from a belgium man who was a Untersharfuhrer in the Frei Legion Flandern. Uniform has insignia as issued with original cuff title, and rampant lion in yellow shield. Flemish SS belt and buckle with wolfs angle insig.,black utility straps holding two 3 pocket MP-40 pouches. Excellent SS feldmutze with eagle and skull + wolfs angle pin. Uniform has the following decorations: repro antipartisons badge, assault badge, bronze wound badge + two original belgium awards one with wolfs angle emblem? 2nd class ribbon and eastern front ribbon. Non original shirt and tie with belgium insignia. Have original to piece 2nd class Iron Cross award paper to original owner. original bakelite binocular case.. VERY rare Model 1940 DD SS Helmet with SS insignias as worn by Foreign Divisions  Difficult to find!!!!
HITLER JUGEND PANZER UNIFORM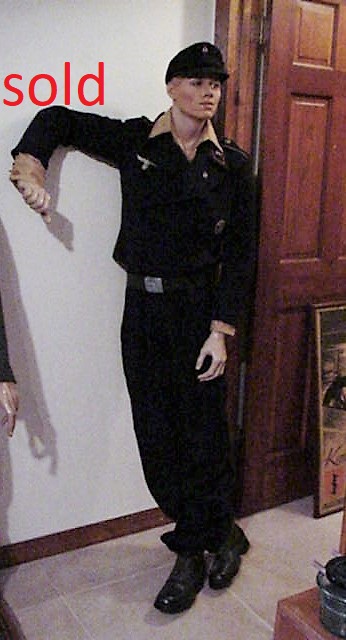 Hitler Jugend Uniform complete as shown This uniform is constructed of a dark blue material with pink Panzer piping to the collar tabs. Overall excellent condition with matching HJ cap. Also has very nice HJ knife (not shown). SOLD