WWii WW2 GERMAN MILITARY TOYS FOR SALE
GERMAN TIPPCO  EIGHT WHEELED ARMORED TOY CAR FOR SALE
SDKFz 234/2 Puma WH196 Wind up Forward/Reverse Made 1940-42 Excellent condition with all parts as originally sold Rare in this condition.
GERMAN TOY GAMA TANK FOR SALE
Looks to be original shows some wear, treads are loose (new ones are available) and it is missing 1 machine gun and ax on right side. Wind up works OK (could use a little oil) other wise a good example of this model.  $325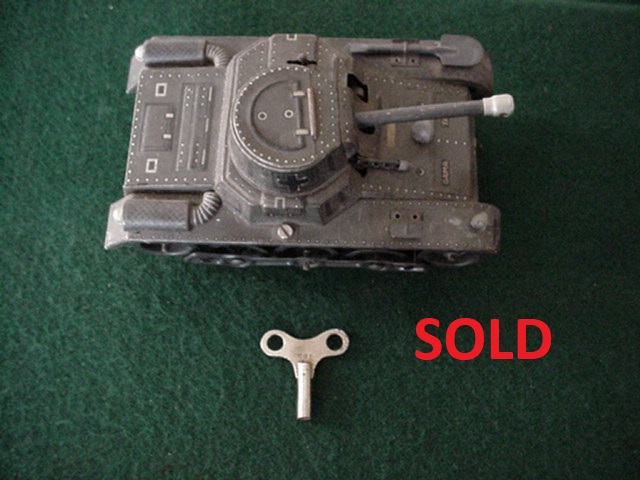 GERMAN GREEN CAMO GAMA TOY TANK FOR SALE
Very nice condition that looks like it was repainted at some time in a camo scheme and insignia has been added. Treads are loose but new ones are available. Wind up works good with original key.
GERMAN TOY TIPPCO BI PLANE D-IGAN FOR SALE
In very good overall condition & has the almost always missing pilot with parachute. This is the rarer model with swastika on the tail and has the plastic tail fin still intact. I don't think that there is anything missing and seems to operate as designed. Has some small spotting on the wings but really does not detract. Rare to find in this complete condition without bent parts.
GERMAN TOY BI PLANE D-OLAF FOR SALE
Bomber with all bombs (4) in very good to excellent condition. This is one of the best examples that I have seen of this model. Comes with key and repro box. Very nice overall $1900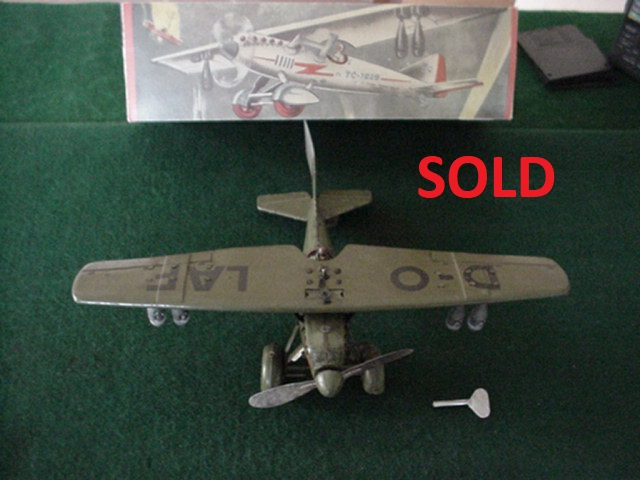 GERMAN TOY TIPPCO AA GUN TRUCK FOR SALE
With Crew (4 Elastolin )  Very nice condition with a key. Crew are all in very nice condition but are probably not original to piece !  $550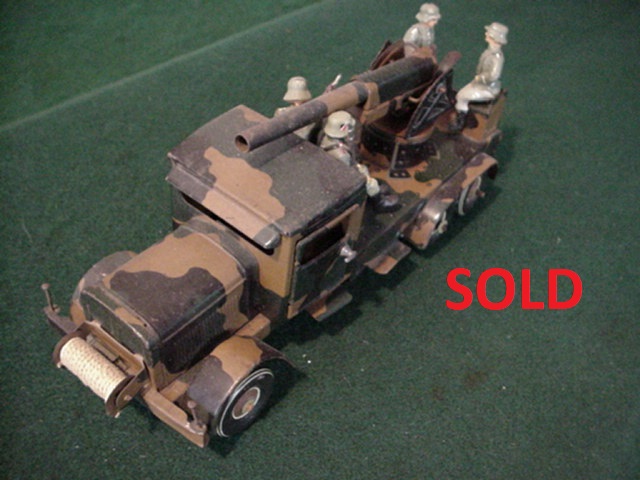 GERMAN TOY HEAVY MORTOR WITH TRACTOR AND CREW FOR SALE
I believe this is a Tippco heavy mortor with the tractor and 2 crew (Elastolin). The heavy mortor comes with 2 original mortor bombs which are almost always missing. Overall very nice with a key. This is rare in a complete set $700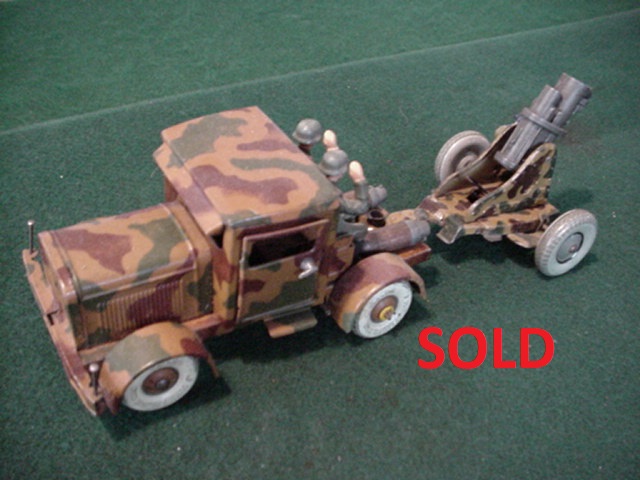 TIPPCO ANTI AIRCRAFT SEARCH LIGHT & GUN WITH CREW FOR SALE
Very good overall with working search light (AA Batteries). Crew of 2 (Elastolin/Hausser) Has key Hard to improve upon for a complete set $750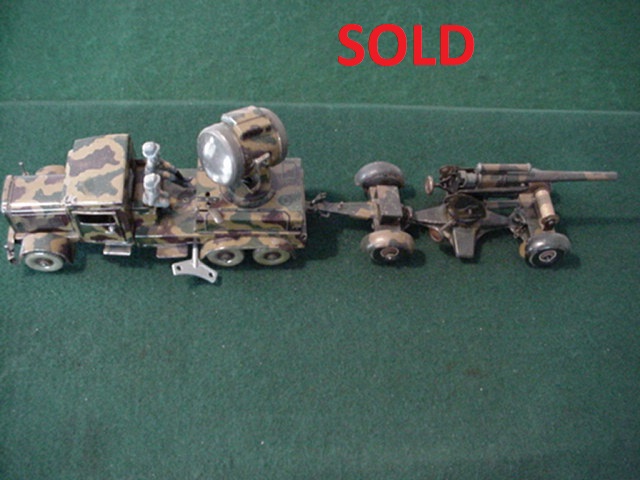 TIPPCO HEAVY HAULER WITH ARTILLERY GUN AND CREW 
This is an excellent set of the heavy hauler with field gun. Comes with 9 crew all in very nice nice condition (mixed uniforms with metal flag as shown). Heavy hauler and field gun all looks to be complete with no missing parts. Key $1550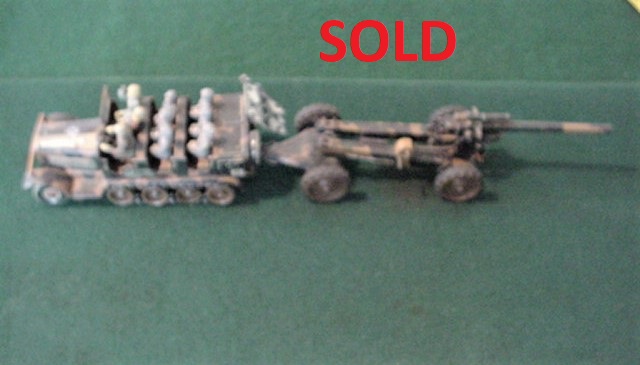 GERMAN TOY MOTORCYCLE WITH SIDECAR & CREW FOR SALE
This a RARE complete motorcycle sidecar and crew which I believe was produced by Hausser Lineol or ? The overall piece is in very good to excellent condition with working windup. The riders are very good with minimum distress. One in far worse condition sold at auction for 800 Euros (2019) and was missing the rear seat rider with rifle.
GERMAN TOY LARGE PANZER 1 BY TIPPCO FOR SALE 
These are considered one of the best windup tanks of the war years. This one is all complete with the always missing jack. Has feature which fire roll caps I have not tried it but the mechanism is working fine. Would be hard to upgrade.